Water Champions
Mrs. Alka, Teacher of class two added "Children bring two bottles each day in summers, heavy on their backs – and as you see it is hot and sultry – two bottles are over in no time, children are thirsty soon and in this heat they get tired fast and they are not attentive. With the water plant in the premises children need to bring just one bottle and refill it through the day during the breaks.''
The community awareness team visits this school once a month and works with the children to help them understand why they need to drink safe water, drink more water and how water can help them become smarter. This also includes early lessons of self-discipline by way of helping the children go in a line to take water and to get back to class as soon as it is done. They are also encouraged to take water in their bottle when they return home. Through variety of participatory methodology like singing, dancing, drawing and drama with simple messages, the team engages the children.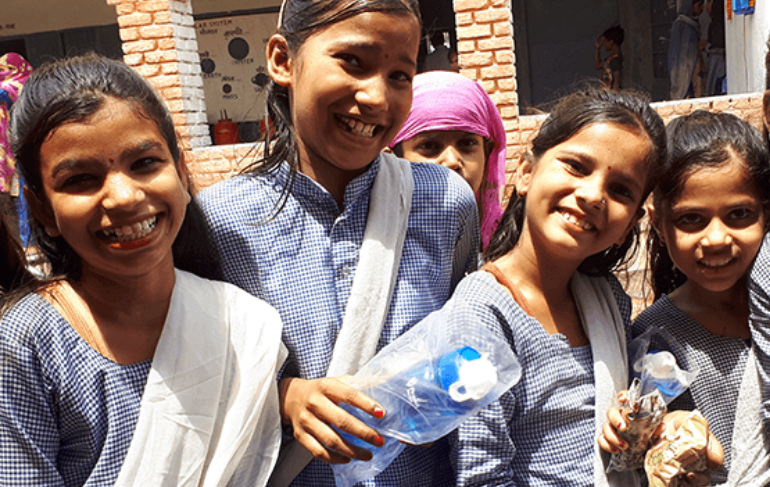 Every child has been given a blue bottle, so that they will continue to have water in the class room and there is more time in the class to learn new things.
Many a reason to keep a child from school, water should never be one!
When private schools that distinguishes between the world of haves and have-nots, Government schools hold the safety net for every child who has already fallen through the sieves of privilege and fortune. While the opportunity to serve girls resonates at the hearts, not to forget are the boys who are here due to social and economic situations of their parents. Among those girls and boys are many who have stunted growth due to nutritional deficiencies, many living with conditions attributed at birth and many differentially abled- the school with its minimum facilities have welcomed them and is providing them education.
Safe water can keep them in good health, prevent them from falling ill with water borne illness, help children achieve some of their developmental milestones, continue to study and rise above their current predicament – support them to have a dream and pursue it.